Manchester's Smart motorways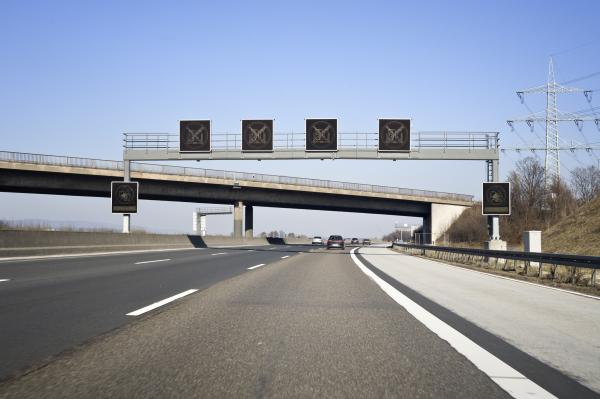 Later this year smart motorways will arrive in Greater Manchester. After plans were first unveiled in 2010 the 17-mile stretch on the M62 and M60 will finally open in September 2017.
The scheme has cost over £200million and will see 200 new electronic signs installed and eight giant gantries spanning the motorways.
What is a smart motorway?
First introduced in 2006 along a stretch of the M42 in the Midlands there are over 400 miles of smart motorways either operational or due to open.
The motorways are covered by 24 hour CCTV and use technology to monitor and manage the flow of traffic.
The electronic signs which span the motorway are used to display variable speed limits which respond to changes in driving conditions in real time. This improves journey times by reducing stop-start driving. Traffic flow is also helped by the hard shoulder being pressed into service to ease congestion.
The signs on the gantries not only control speeds but they can also open the hard shoulder or close a lane so emergency vehicles are able to travel unhindered. Average speed cameras are also incorporated into the gantries.
What are the benefits of smart motorways?
Highways England claim there are several very good reasons to have smart motorways.
• Improves traffic flow
• Easier access for emergency vehicles
• Discourages speeding
• Reduces accidents
• The more constant speed of vehicles and less braking reduces carbon emissions
• Reduces journey times
• More emergency refuge areas for motorists in difficulty
• Cost less than traditional road widening schemes
Where is the Greater Manchester smart motorway?
There are two stretches of motorway in our region which have been converted to smart motorways. The M62 between junctions 18 and 20 near Rochdale and from junction 8 to 18 on the M60.
In total 17 miles of motorway is included and the hard shoulder will be available as an extra lane along the full stretch. The motorways will be monitored by the traffic control centre at Newton-le-Willows.
Do smart motorways work?
Highways England certainly think so. The government owned company claim analysis of the M2 smart motorway since its opening in 2006 shows it has:
• Improved journey reliability by 22%
• Reduced personal injury accidents by 50%
• When accidents have occurred there have been zero fatalities
The safety figures alone appear to support the introduction of more smart motorways but not everyone is convinced.
More speeding fines
Critics of smart motorways claim the speed limits are often changed for no discernible reason. Many drivers are caught out and face mandatory speeding fines. Over £21million worth of fines have been dished out to motorists caught speeding on Britain's smart motorways.
Speaking to The Sun newspaper president of the AA, Edmund King, said: "The fact is that cameras are really being used to replace police. The problem is that cameras don't catch drink drivers; they don't catch the middle-lane hoggers, they don't catch the dangerous tailgaters".
Here to stay
Despite the protests, and it has to be said if you don't speed you don't get fined, smart motorways are here to stay. So, how do you use the new M62 and M60?
The GOV.UK website gives this advice:
• Never drive in a lane closed by a red "X"
• Keep to the speed limit shown on the gantries
• A solid white line indicates the hard shoulder - don't drive in it unless directed.
• A broken white line indicates a normal running lane
• If your vehicle experiences difficulties, eg warning light, exit the smart motorway immediately if possible
• Use the refuge areas for emergencies if there's no hard shoulder
• Put your hazard lights on if you break down