Landlords and lettings agents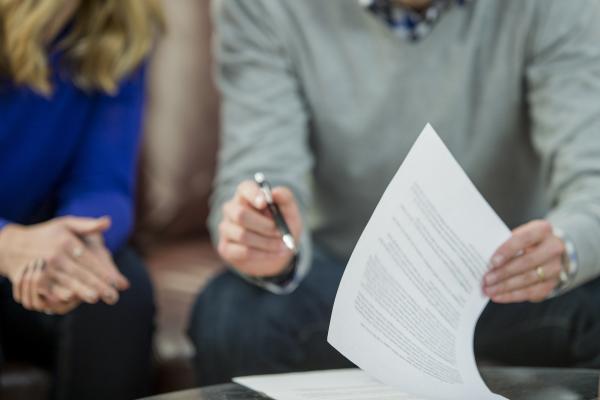 One of the great things about being a landlord is having numerous options as to how you structure and manage your property business along with access to professional services that can be taken on a pick n' mix basis, depending on the landlord's individual situation.
Landlords can create a bespoke solution as to how they wish to run and manage their landlord life, delegating tasks if needed, and adjusting over time as circumstances dictate.
When it comes to working with a lettings agent, the first question landlords should ask themselves is "do I need one?".
The answer to this question will depend on:
1. Do you fully understand your legal obligations and what you need to do in order to be compliant?. Landlords have to adhere to over 160 Government statutes and regulations in order to be compliant. If you do not have knowledge of these, then you would be advised to use a reputable lettings agent. Fines for non-compliance are harsh - up to £30K!
2. Do you have the time to find tenants and manage them? Perhaps you have a full-time job and cannot take personal phone calls during the day. Or maybe you have family commitments or travel a lot. If this is the case, then a reputable lettings agents should be part of your team to look after your properties and ensure that your tenants receive an acceptable level of service.
3. Do you live near to your properties? If not, then you are going to need an agent with local contacts to manage it for you and deal with such issues as repairs and maintenance.
4. Are you willing to have the hassle of finding tenants and managing them? This includes taking calls outside of working hours, chasing rental payments, and even dealing with tenant issues while you are on holiday or at work, something many landlords find they struggle with.
After considering the above and reaching the conclusion that you need to work with a letting agent, landlords then have to decide which type of agent to use
Should you work with a traditional High Street agent or consider a progressive on-line agent like MakeURMove?
One of the most important things to do is to choose an agent who is compliant.
Since October 2015, it became mandatory for all agents to belong to an independent redress scheme. MakeUrMove is compliant in this regards as we are a member of the Property Ombudsman Scheme.
Furthermore, all our support agents are accredited property managers, receiving regular training and are therefore up-to-date with all the latest regulation and legislation. Our team, therefore, ensure that your property is let compliantly, reducing your risk.
Our fees are also less expensive than traditional High Street agents as we are not paying for expensive offices and have used technology to streamline processes and communication.
Costs have always been a major influence on landlord choices, even more so when considered through the lens of Section 24.
Traditional High Street agents typically charge between10% and 15% of the rent for a fully managed service.
However, if you consider it, it takes the same amount of effort to manage a property that is achieving £400.00 per month rent, as it is to manage a property achieving £4,000 per month rent.
They all require the same compliance and attention to managing the tenants, repairs, maintenance etc.
At MakeUrMove, we charge a flat fee of £65.00 per month inc. VAT per property.
According to Homelet, the average rent in the UK, as of February 2018, is £906.00 per calendar month.
So a traditional High Street lettings agent on the 10% fully managed tariff would charge £90.06 per month plus VAT to manage that property. A total of £108.00 per month.
In this instance, that amounts to £43.00 a month more than you would pay using MakeUrMove's fully managed service.
Therefore, using our fully managed service would save you £516.00 per annum, based on a property achieving the U.K.'s average monthly rent.
From tenant find, to rent collection, to fully managed, we have a solution for you whatever level of support you require.
We also have a number of "add-on" services, individually charged, that you can choose from to tailor your package to your exact needs. These include arranging and undertaking viewings, renewing a Gas Safety Certificate, and getting an EPC done.
Our website is transparent, and all costs for additional service are clearly shown, ensuring that you have a clear understanding of these.
A vital question to ask any agent you are thinking of working with is "Which property portals do you advertise on?". Without access to the major portals, you will struggle to let your property as you will not be advertising it in the main marketplaces frequented by tenants.
Rightmove is the No. 1 portal in the UK and has recently announced record traffic. In February, it reported that traffic had grown 4% to average over 125 million visits per month, extending its lead as the premier property marketplace.
At MakeUrMove, we advertise your properties for rent on Rightmove, Zoopla, and Prime Location, ensuring that they are exposed to the maximum number of tenants. This can help minimise a void period and give you a greater range of tenants to choose from.
One of the most popular features of our platform is that our system pre-screens tenants and only sends through tenant booking requests from those tenants that match the landlord's criteria, so we're not going to waste your time on people that you wouldn't rent out to.
The other thing to consider of any prospective agent is their track record. How long have they been in business? Do they have positive reviews of their service?
Third party reviews are a very important part of the due diligence process, as you can hear of the first-hand experience of other landlords.
We are proud to say that MakeUrMove has been in business since 2008, so we are celebrating our tenth anniversary this year.
During that time, we have successfully let thousands of private residential properties for both UK- based landlords and overseas landlords.
We are an award-winning technology driven company and have led the pace of innovation in the property rental sector, driving down costs for both landlords and tenants.
Our reviews speak for themselves.
On TrustPilot, we have an 89% ranking for "excellent" and 8% of landlords rated us as "great"
This recent 5 star review is one such example: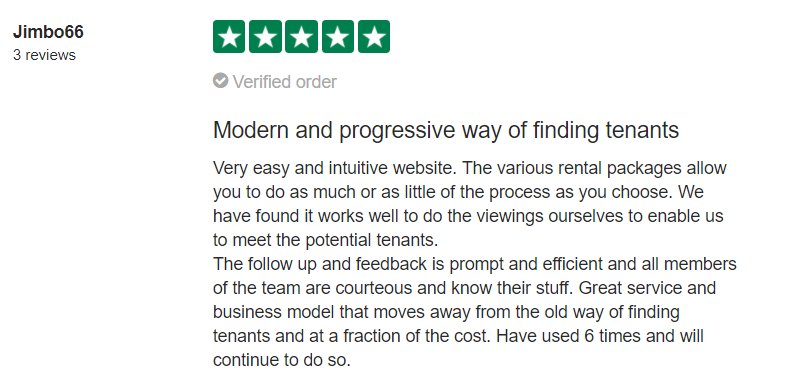 Modern and progressive way of finding tenants
Many of our 5* reviews also comment about the clear and fast communication, the volume and quality of tenants we have generated, and how great it is to have the lettings team on hand to answer any questions.
At MakeUrMove we really have made it as simple and pain-free as possible for landlords while, at the same time, reducing their costs with our flat fee management charge of £65.00 per month including VAT.
Put us to the test today and experience our award-winning service for yourself. Your bottom line will appreciate it! Click here to find out more.