What is a Rightmove feature property listing?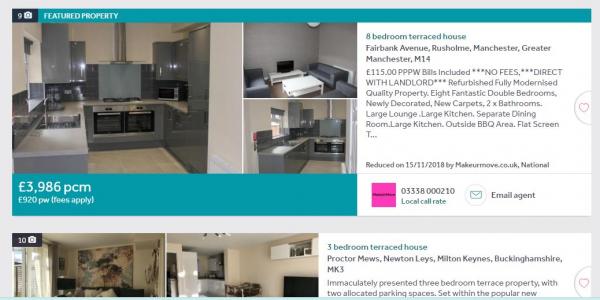 If you're a private landlord you'll know all about Rightmove. But just in case you're not aware. Rightmove is the biggest property website in the UK. Hundreds of thousands of people visit the site every single day. And if you're a private landlord looking for tenants it's where you need to advertise.
Unfortunately, landlords can't list their own properties on the site. Only approved letting agents can do this. The good news though is that if you list your rental with MakeUrMove our package includes a listing on Rightmove. This gives you a big advantage over other landlords.
Why you need to be on Rightmove
Tenants will usually start their property search online. Instead of looking in a newspaper or shop window they will boot up their laptop or smartphone. They will go to the sites on the web where they know they'll find the best properties to choose from. And that's usually Rightmove.
In January 2018 the Rightmove website attracted 141 million visitors. And those numbers just keep climbing. It's one of the most visited websites in the UK. Of course, some visitors will be looking to buy instead of rent. But nevertheless, it shows the huge pulling power of Rightmove. And the potential audience your property could be in front of.
Making sure your property is on Rightmove really is a smart move. And, as we mentioned earlier, we'll put your rental on the site as part of your listing package with us. But you can also choose to enhance your advert. You can upgrade to a featured listing.
What is a Rightmove featured listing?
As the name suggests a featured listing makes your ad stand out from the rest. Your listing will have a highlighted border and more photos than a normal ad. But that's not all. Your property will appear at the top of search pages on the site. Guaranteed. If a tenant searches for a property in your area yours will be top of the list. The tenant will also see a larger photo compared to other ads. Your property will also appear in other online searches too.
As you can gather a featured listing on Rightmove is all about increasing the visibility of your property on the biggest property website in the UK.
Benefits of a Rightmove featured listing
There're some important ways in which a featured ad improves on a normal Rightmove listing:
Your property automatically appears at the top of the search results.
Figures from Rightmove suggest featured listings can receive 50% more views than standard ads.
You'll receive more enquires.
Rightmove will highlight your ad. This will attract more views.
Thousands of interested tenants will view your property.
Other local landlords won't have this exposure.
You should find a tenant faster.
If you're struggling to let your property a Rightmove featured listing may be the boost it needs to attract a tenant.
How to book your featured listing on Rightmove
If you have already listed your property with MakeUrMove you can upgrade your package to include a Rightmove featured listing.
Private landlords can find tenants fast by listing their property with MakeUrMove the original online letting agency.