Tenants: How to furnish your home on a budget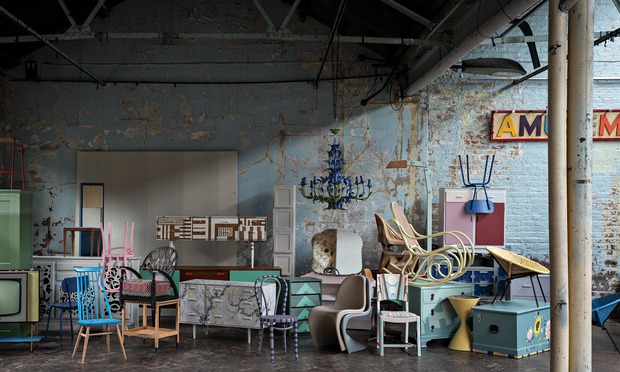 Moving into a new property is an exciting time. It can also be financially challenging with fees, deposits, and advance rent to pay. For anyone moving into an unfurnished, or part furnished, property, especially if it is their first move, there will also be the added expense of purchasing furniture and appliances. Which can be a daunting prospect for anyone, especially if money is tight. Yet understandably a tenant will want to furnish their new place quickly and with the best possible fittings.
Decisions, decisions
If you are in this position the first thing to decide when planning to furnish your home is, New or old? Are you going to buy all new furniture or are you happy with pre-owned? Of course we would all like sparkling new stuff but it isn't always practical or affordable.
Pre-owned
There are some amazing bargains to be had. If you know where to look…..
Local auctions
Most small local auctions are stocked from house clearances and liquidated businesses. Most will have a whole raft of white goods which can be had for just a few pounds. If you don't mind rolling up your sleeves and using a bit of elbow grease fridges, freezers, and washing machines can be cleaned up to look almost new for a tiny fraction of the price you would pay on the high street. While at the auction take a look at the sofas and brown goods that may fit into your new home.
Online
There are two very obvious websites where pre-owned bargains can be had. Everything under the sun can be found on Ebay and Gumtree but don't get carried away and pay more than you need to. There will always be a cheaper alternative. But there is more to online bargain hunting than those two giants. Check out local Facebook groups where people barter or swap everything you can think of, or go to Preloved and don't forget FreeCycle. You never know what you will find for pennies or even for free.
Retail
Whilst high street stores and their new products are out of our remit there are plenty of charity shops which stock surprisingly high-quality items. More and more charitable organisations are opening furniture 'super stores' and, whilst prices are tending to creep up, they are still low when compared to new stock. In addition most local authorities now have recycle shops where they sell items destined for the dump at pennies in the pound. You can find some quirky and interesting stuff in these places.
Upcycle
Although upcycling has been around for a long time it is only recently that it has become seriously in vogue with plenty of TV programmes dedicated to the subject. If you are handy with power tools, enjoy crafts, and have an artistic bend you can find a wealth of raw materials which other people have discarded with which to create colourful and unique furnishings. As an aside there are now lots of designers and craft workers selling their own upcycled products but, as you would expect from bespoke items, they can be very expensive. If you are on a budget, upcycling is strictly a DIY enterprise.
Going for new
Budgets are subjective. What one person views as a minimal amount can be a king's ransom to others. If money is no object this is not the forum for you but if you have a moderate budget, if you want to buy new but really need to watch the pennies, there are ways to make your cash stretch further.
Shop around
It's a buyer's market. Retailers are slashing margins as they cut each others throats to try and win your custom. Which is great news for you. There are some amazing deals to be had and high street stores are always pushing special promotions and sales. Just be patient and shop around for the best deal. But, a word of warning. Don't fall for the marketing hype and the 'sale ends tomorrow' rhetoric. That particular sale may well end but there will be another one immediately taking its place. If you take your time and consider your options you will find big discounts on furniture and white goods.
The internet is your friend
They may be highly reticent to pay their taxes but the search engines and online shopping giants are the shopper's best friends. Google and Amazon are the gateways to bargains galore and there are plenty of other specialist etailers with stock to shift at low prices. But, you have to put in the hard yards and visit plenty of websites. Read lots of product reviews and eventually you will find some good deals. Remember to factor in delivery costs when shopping online.
So. Pre-owned or new?
Whichever approach you take it is possible to furnish a home on a budget. Whilst it isn't easy and not without its frustrations, patience and perseverance will help you furnish your rental home in no time.