Buskers going underground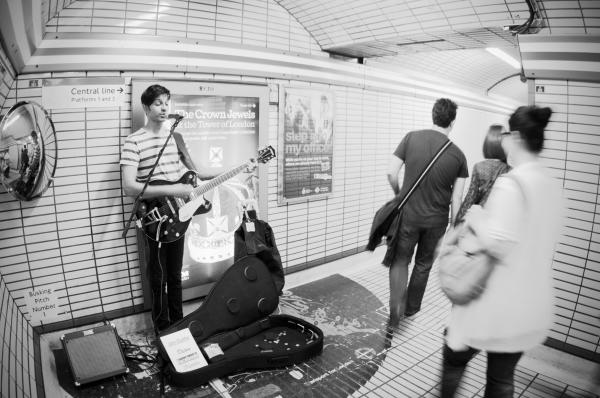 It's the street musicians equivalent of the X Factor. Auditions are being held for 100 coveted busking pitches on the London Underground. It is the first time in over two years new licences have been put up for grabs.
The lucky 100 will join the current band of 250 officially approved buskers. It's a sought after gig. Performing on the underground, with an audience of 3.5 million passengers every day, can lead to big things. Ed Sheeran, Bob Geldof and Jessie J are all former underground buskers.
Appreciated by commuters and travellers alike, buskers are a popular sight at tube stations across the capital. But, many who see their performances won't realise they are licensed by London Underground. Only approved performers are allowed to busk and only at specially designated pitches within the stations.
Part of London's identity
For many passengers and visitors to London buskers are an integral part of the underground. As iconic as the stylised map and the tube trains themselves. Something which isn't lost on those in charge.
Mark Wild, Managing Director of London Underground, said: "Over the years busking has become an essential part of London Underground's identity." Deputy Mayor for Culture and the Creative Industries, Justine Simons agrees. She said: "London is a world leader for culture.
"Around every corner there is a cultural gem bringing our city to life, and nowhere is this more apparent than with the atmosphere buskers create on the Underground, where live performances are enjoyed by thousands of people every day."
Who knew?
The fact that buskers on the underground are licensed may come as a surprise to many. Yet the licensing scheme was first introduced back in 2003. Licences are free but the buskers need to book two hour slots at the different pitches on a first come first served basis.
But while it might not be a hugely lucrative gig, it is certainly one which can act as a springboard to bigger and better things. Which is why the new auditions are creating such interest amongst professional and aspiring street musicians.
While a successful audition can be great news for an up and coming busker the newly licensed performer will also be welcomed by commuters and travellers. After all, who hasn't enjoyed listening to the musicians on the underground? Even if it is just a few bars as we rush by for our train.
Buskers have been a common sight in tube stations for many years. The new intake will continue a tradition which has endured since trains first rumbled under the metropolis.
Mark Wild said: " This new wave of auditions will bring in a new range of musicians who will continue the strong tradition of entertaining our customers with a high standard of music.'
Want to busk?
If you are a musician looking for an audience the London Underground auditions may be the platform (pun intended) you need.
Justine Simons, said: "London is open to talent and creativity from around the world, and I would urge any aspiring artist to audition for a coveted place on the Underground busking programme."
Wannabe buskers need to be quick though. Applications for for auditions close at 23:59 on Monday 28 August 2017.