Top Tips for Landlords at Halloween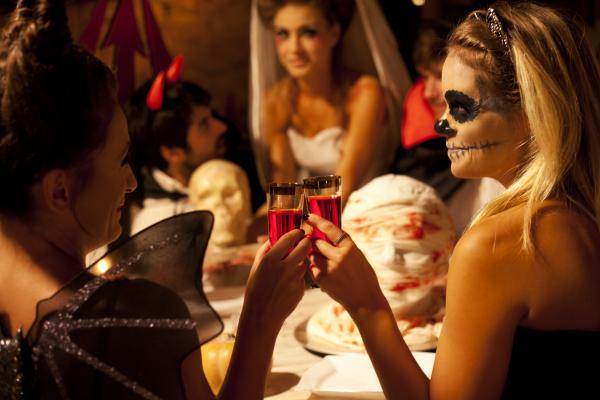 Halloween can be a lot of fun. It's a time of year when families and friends come together engage in dressing up, share sweets chocolates and maybe the odd drink, but it can represent a potential problem for landlords and it's one you might want to address before it happens.
Reminding tenants about the property rules at Halloween
Making sure that steps are taken to ensure your property is safe during Halloween is an important part of property management.
The first task is to remind tenants that during Halloween your normal property rules still apply. Gently give them an overview of when the specified quiet hours are, what your rules about parties are and the state you expect the decoration to be when the property is returned to you. Bluetac marks and pin holes all need dealing with before handover.
Everyone loves a carved pumpkin at Halloween, but most tenancy agreements state there can be no naked flame in the rental property. It's worth reminding your tenants before Halloween that they can use a battery operated flame effect candle to get the same impact.
Informing tenants about local Halloween traditions
If your tenants are relatively new you will probably have a better understanding about how 'rowdy' Halloween can get in the property's location and what they should expect from the inevitable 'trick or treaters'. In some locations, the best advice might be 'don't open the door' whereas another location you might say "buy plenty of sweets for the kids".
Clearing walkways at a rental property
As Halloween is at the end of October, the leaves are falling from trees and it's possible that there could be some debris on walkways around your property. Remind your tenants that if people do come trick or treating, piles of wet leaves could represent a slip hazard.
Check outside lights before Halloween
If your tenants are going to get trick or treaters approaching the property then it may be worth suggesting to your tenants that outside lights are tested and left on to help people - who may have their peripheral vision reduced by wearing masks - see where they're going.
Keeping dogs safe in rented homes at Halloween
If your landlord that allows pets and your tenants have a dog or dogs, you should suggest they are secured within the property, away from the main door to prevent any nuisance barking. Although your dog may think he or she is doing their job, this barking can be very disruptive to neighbours.
Arranging a viewing following Halloween
If you are concerned your tenants are planning to have a big Halloween party and you're worried about the state of your property after it, you may want to arrange an inspection the following day. Whilst the tenants can still have their party, they will have to make sure they can tidy it up by the time you arrive the following day.
Communicating with tenants around Halloween
Tenants love gifts and it may be worth sending them a simple Happy Halloween message, or perhaps even some sweets through the post to remind them you're thinking about them.
Whilst Halloween can be annoying for some, others find it a lot of fun and as landlords, you want to make sure your tenants enjoy living at your property. The more they enjoy it, the longer you'll stay. But with a bit of communication in advance, you can rest assured this Halloween won't be a rental property horror story for you.
To take the hassle out of property management at Halloween, let one of our property management support staff to deal with it for you. They don't miss a trick and they're always a treat to deal with. Sign up for MakeUrMove's property management solutions today.