Government publishes draft Tenant Fee Bill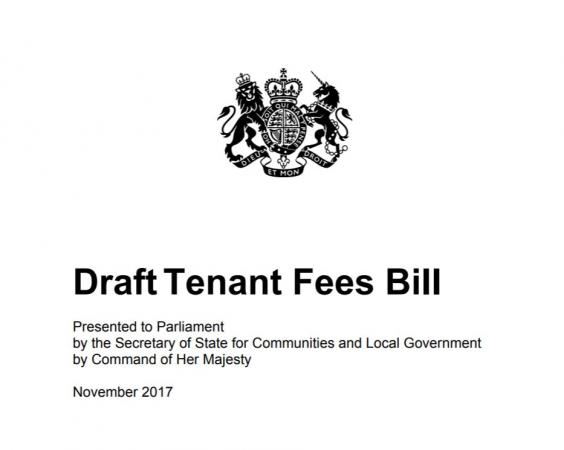 On 1st November 2017 the government introduced the draft Tenant Fee Bill. This draft bill provides information about the government's plan to ban fees paid by tenants to letting agencies and agents.
This new bill provides legal protection for tenants in England and means tenants won't be forced to pay anything other than their rent and a refundable deposit.
Letting agents have been waiting for around seven months during which a three-month industry consultant was undertaken and it's thoughts many letting agents will have to dramatically change their business model in order to stay in business.
Although there has been some consternation about the new bill from the lettings industry, more than nine out of 10 tenants backed the changes. In addition, seven out of 10 responders also suggested that letting agent fees had stopped them from being able to move
The government has also launched a consultation today to make client money protection scheme membership mandatory for all letting agents as well as the managing agents who handle client money.
"The ban will make renting fairer and easier for tenants by allowing them to see upfront what a given property will cost them – the rent that is advertised will be what you are expected to pay, nothing more," says Sajid Javid, Secretary of State for Communities and Local Government.
"It will also sharpen and increase letting agents' incentives to compete for landlords' business, resulting in a better and more transparent service for everyone."
The Tenant Fee Bill Will Include:
Holding deposits should be capped at no more than one week's rent and security deposits should be no more than six week's rent.
Letting agents who breach the ban for the first time could be fined up to £5000. In cases where an agent is fined and convicted of the same offence within the past 5 years, this will be regarded as a criminal offence and penalties of up to £30,000 could be issued.
Trading Standards will be required to enforce the letting agent fee ban
Appoint a lead enforcement authority in the lettings sector.
Amend the Consumer Rights Act 2015 to specify that the letting agent transparency requirements should apply to property portals such as Rightmove and Zoopla.
Alan Ward, Residential Landlords Association (RLA) Chairman said: "It is welcome that greater clarity is being provided to the sector and that Ministers have clearly listened on a number of important points. Most notably, proposing to cap security deposits at six weeks rather than one month recognises concerns about the need to ensure protections against tenants' default on rent payment and damage to property.
"Ultimately though, cutting costs for tenants means boosting the supply of homes for rent. Whilst we recognise the Government's objectives, this would best be achieved by using the Budget to encourage good landlords to build more homes."
The bill doesn't just apply to letting agents, it also bans landlords from charging fees other than rent and the holding deposit. This applies to grant, renewal and continuance of tenancy.
Payments by tenants to landlords or agents are placed in two categories. These are permitted and prohibited payments. Permitted payments include tenancy deposit, which can only be a maximum of six week's rent.
"The NLA is happy that the Government has listened to the evidence we presented on behalf of our members. Whilst we remain disappointed that the Government continues to believe a cap is necessary, extending it to 6 weeks rent will reduce those households and landlords disadvantaged by the policy significantly," says Chris Norris, Head of Policy at the National Landlords Association (NLA).
Sajid Javid added: "Tenants should no longer be hit by surprise fees they may struggle to afford and should only be required to pay their rent alongside a refundable deposit. We're delivering on our promise to ban letting agent fees, alongside other measures to make renting fairer and increase protection for renters."
Payments such as tenant referencing, checkout fees, inventories, contract renewal, application and guarantor fees will all become prohibited payments and if the tenant has been charged them - or reports that a landlord or agent tried to charge them - they could be hit with a punishment for a civil breach set at a fine of between £5,000 and £30,000 which will be enforced by Trading Standards.
"Whether you've been forced into life as a tenant or simply decided that it's the best option for you, you deserve to know that you will be treated fairly and not ripped off by the people you rely on for finding and renting your home," says Sajid Javid. Javid believes this has occurred because the market isn't orientated towards protecting the interests of tenants.
In addition, any tenancy that features a prohibited payment will be considered null and void which could leave landlords in a tricky situation should they fall foul of the new legislation.
ARLA Propertymark Chief Executive David Cox said: "While Propertymark members are already required to have CMP, this new measure will ensure that all letting agents are operating on a level playing field, meaning consumers will be protected regardless of the agent they choose.
"We are equally pleased that agents will have to display their CMP membership prominently, which will provide tenants peace of mind that their money is protected."
The draft bill will be debated in parliament before it becomes law, however, it's believed that it will pass through parliament relatively quickly. Whilst many bloggers and journalists are announcing that tenants will save hundreds of pounds when they move rented homes, it's most likely the associated costs of finding new tenants will be passed on to tenants through increased rents.