How can landlords advertise on Rightmove?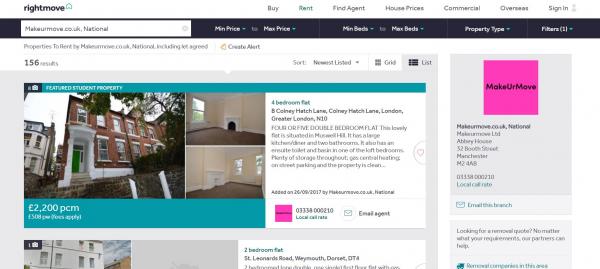 Across the UK there is a trend for high street letting chains to charge landlords in the region of an average of 12% of their annual rent to find new tenants for their rental property. In addition, there are all sorts of other costs associated with letting a property that can make the process very costly for both a landlord and a tenant.

MakeUrMove was established in 2008 as the first online letting agency in the UK. Our mission back then, as it is today, is to help good landlords find the right tenants for their property, fast.

Over the years MakeUrMove has developed into one of the UK's leading proptech companies providing solutions for landlords and tenants throughout the country, helping landlords not only find tenants but keep them for as long as possible and manage their property with minimal fuss. But at the heart of what we do here at MakeUrMove, we understand our customers need to find tenants for their properties when they need new tenants. And that's what we pride ourselves on.

But whilst other lettings agencies out there bang on about finding tenants for landlords we're honest with it. We help landlords find tenants by providing them with a route to get onto the UK's major property portals.

Can landlords advertise on Rightmove directly?

The short answer is no, advertising your rental property is something you must do through an agent, such as MakeUrMove.

Do I need to advertise my rental property on Rightmove?

Rightmove is by far the biggest property portal in the UK, attracting something like 20 million visits a month. Through MakeUrMove, landlords can quickly and easily advertise of Rightmove for free for seven days.

Although we've dealt with hundreds of thousands of tenants over the years and have the kind of tenants database that would make most online estate agents go weak at the knees, most people go to the portals and as long as you've got all the relevant documentation, we can get you on those portals quicker than most.

As well as getting your rental property on property portals such as Rightmove, we'll send an email out to all those tenants we think may be relevant to your property.

On average it takes around 21 days to let a property out through MakeUrMove. Of course, that does mean that there are a large number of properties let out through the 7-day free service and some that take a bit longer.

When you're listing a property on MakeUrMove in order to advertise it on Rightmove, you've got to consider how potential tenants search on the property portals. The first thing is location, and whilst there's not a great deal you can do about where your rental property is, you should be thinking about what other properties in the area are renting out for. Although Rightmove defaults to newly listed property first, having a keenly priced rental property is one of the best ways to get your property to the top of the search results.

The other things you need to think about include getting the best possible photos on your listing, including really in-depth, honest and non-salesy description.

We also give landlords the opportunity to use featured listings which make rental properties really stand out on Rightmove, dramatically improving the number of enquiries landlords gets from those listings.

When you're advertising on Rightmove through MakeUrMove, you'll also get your rental property featured on our website and through other property portals including Primelocation and Zoopla. In addition, we'll send it to relevant potential tenants from the hundreds of thousands of tenants we've worked with over the years.

Advertise your rental property on Rightmove today

To start advertising your rental property on Rightmove and the other major property portals simply list your property for free with MakeUrMove now.