Online letting platform with a team of specialists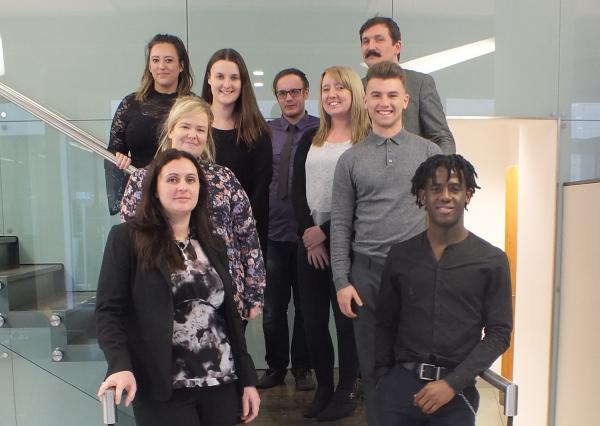 Here at MakeUrMove we are dedicated to offering all the tools and support a landlord could need. Through our online solution, we can help you from the beginning to the end of your tenancies whilst also keeping control firmly in your hands. In addition to providing cutting edge landlord software, our accredited team of lettings industry experts are always here to help out. Many of our current landlords are with us for our convenience, cost-effective resources and extensive knowledgebase, not just our amazing 5 star rated service and positive results.
And it's not just all about our online platform, we offer a personal and welcoming service, supporting tens of thousands of landlords throughout the UK, managing everything from our Manchester office. This ensures each step of your letting journey are maintained by a close-knit and highly qualified team, so you will never be passed around or asked to call back. With MakeUrMove you know that an intelligent and well-trained member of staff will always be able to assist you with any issue you may face.
At MakeUrMove we understand that your property is your investment and something you have chosen to dedicate your time to, we allow you the freedom of expressing your property how you see fit. We can tailor your advert to the audience you want for it and help you maximise your potential clicks on Rightmove to find you the exact tenant you desire. We commonly get questions ranging from "how I take the best possible photos using just my smartphone" to "what are the concerns with renting out to certain types of tenants" and we are always a phone call away to help advise you make the most of your advert to get the perfect tenant.
Any property you list on MakeUrMove will be reviewed by a trained lettings specialist and should we or yourselves find that the property isn't achieving its possibilities we are more than happy to do thorough investigations into the property, the area, the price and the listing to maximise it's potential. We compare the property to everything similar nearby to make certain of obtaining as many potential tenants as possible.
We have had great success utilising online searches to increase the number of enquiries and advertisement clicks properties get. We understand that almost everyone uses online platforms like Rightmove, Zoopla and Primelocation to find their next property. Long gone are the days of hoping a letting agent window would just so happen to have a single picture of someone's dream home nowadays we have to use analysis and data to make sure the right people see the right property at the right time and we are constantly getting better at making sure this happens. This allows us to offer a £35 "featured" service that on average triples the number of people looking over your property on Rightmove (the number of enquiries are available upon request).
We can hold all the necessary details of all your properties in one place on our easy to use and compendious website. Our website is full of useful tricks and clever updates, you can track your viewings, your offers and all your documents in one easy to access place. Want to know if your EPC is coming to the end of its 10-year lifespan? Don't worry we will send you an automated message before it expires so you have plenty of time to order another. We can even issue you a tenancy document from the comfort of your couch. Easy access to all your necessary documents from title deeds to referencing reports and checklists of all a landlord's necessities our technology will make your landlord journey much simpler and smoother.
If you find yourself struggling to keep up with the maintenance of one or more of your properties, we can also offer a very comprehensive and thorough management service. Our property management specialists can help give your tenants the feeling of round the clock care for their property with our 24hour emergency phone lines whilst you as a landlord can sleep easy knowing that your rent is insured, and your property is regularly inspected and maintained. Unpaid rent is one of the largest concerns for landlords, especially those still paying off a mortgage, having a comprehensive insurance policy in place and our friendly staff collecting and transferring your rent helps many of our landlords sleep a little easier. Regular updates and constant communication will make sure any major works at your rental property are reported much quicker and acted upon before they become major issues.
Full management of one of your properties comes in at £65 per month but we can take care of almost everything requiring only your final approval to make sure you are always in control of your investment. Our team will take care of everything from arranging the viewings and booking the tenants into hiring qualified tradespeople to maintain the property and helping to carry out evictions should the worst happen. These are the worst times to be a landlord. If you experience a tenant not paying their rent you will feel much more comfortable knowing MakeUrMove are assisting along all the way.
We also make sure your listing is compliant to governmental standards and being a member of the Property Ombudsman with many ARLA qualified staff you can be assured that you will experience an in-depth and dependable service that many other online agents can't match. We help you stay compliant and up to date with the ever-changing property laws. Monthly newsletter updates are there to make sure you are informed of any major changes to your business and livelihood and constant website updates ensure that we never process through properties that may have issues occur later down the line. We are at the forefront of compliance and will always give landlords the knowledge they need for success and legislative accordance.
With MakeUrMove, our landlords go from one tenancy to the next far easier and with far more support than any other online letting agency, all at a fraction of the cost of high street agents. MakeUrMove's solution is always available to manage your rental properties and our team is here to help.
To get started with MakeUrMove and to find good tenants faster, simply list your rental property now.