How To Make the Most of Your Loft Conversion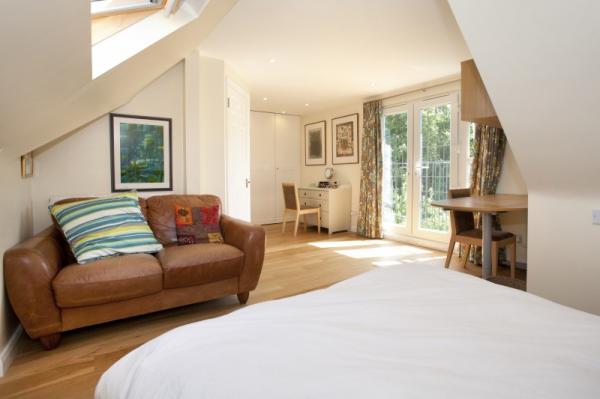 If you have a property to let, a loft conversion can be a great way to attract tenants, by creating extra living space from the unloved attic. It can also add potential revenue in the short term, and then again in the future if you decide to sell the property.
But whatever the reason for converting the loft, there are times when it's additionally important not just to have the space, but to make the most of it! So when you're letting a property, it's particularly crucial to maximising the impact and advantages the loft room brings to daily living, as this can really set your property apart from others on the market, help to attract tenants and reduce vacant periods.
When your loft space is newly designed it can pay to consider the local rental market, as this can help you decide what the space should offer and how it should 'look'. Then use this information to 'stage' the loft by decorating and arranging it in a way which really demonstrates the potential of this extra space and attracts tenants quickly.
Make the space a place
To present the loft space as a place prospective tenants want to spend time in, it's important to think about why most residents move into this particular area, and how the room can help meet their needs.
Think about what purpose the room is going to fulfil - bedroom, playroom, home office, hobby room, there's plenty you can do at the design, furnishing and decorating stages to customise your loft to a specific purpose.
So, if the rental market in the area tends to be:
Students coming to attend a nearby university or young professionals house-sharing until they can afford their own place: consider an en-suite as a conversion planning option and stage the room as a mini-studio which offers private facilities, something in high demand in shared spaces.
Professional couples: most professionals bring their work home with them, but don't want to clutter up their home with paperwork at the dining table. Staging the loft conversion as an office, study or library space (or a space which offers a combination of these benefits) will show prospective tenants the advantage that this space brings for living alongside working.
Young families: if the property's in the catchment area of good schools, then the chances are it will appeal to families. This gives you plenty of options for research and for showing the loft conversion in a way which will appeal to this market.
If the school is for primary and junior aged children, staging the loft conversion could include:
As a children's playroom.
As a children's bedroom.
If it's a Master suite design, show it off as a luxury bedroom suite, to appeal to parents as a 'kid free' escape of their own.
If the school is a secondary school, but the family also has younger children, any of the options above would still apply. But additionally, staging the room as a teenage den / study / studio would add to its appeal for families with teenagers.
Alternatively, if you want to keep your potential tenant options quite open, then demonstrate (rather than define) the loft room's potential, by staging the space in a way which shows buyers its multi-use potential. For instance:



Adding a stylish sofa bed adds a sense of relaxation to the room, whilst also demonstrating the wide range of possible uses for the space, such as sleeping, studying and reading.
Placing a desk (which doubles as a dressing table) beneath a dormer window or a run of roof lights can help display how to make the most of the room's natural light across a range of purposes, such as a home office, study and bedroom.
Throwing light onto the stage
When it comes to staging a room, the way you accessorise the windows can also enhance the room's sense of place:
If the room's for sleeping in, or you want to show its luxury potential for a home cinema, motorised blackout blinds might be essential and will consolidate the room's purpose.
Leaving the windows bare could maximise the natural light, ideal if you're setting up a study, hobby room or gym.
Layering the effect
After you've taken care of the windows, pay attention to the floor. Creating zones within the room can really show its potential and is easily achieved by using different types of flooring and rugs - durable for playrooms, luxurious for bedrooms, and cosy for chill-out zones.
Using rugs to emphasise the sense of place not only creates a warm, welcoming space which your prospective tenants can 'see themselves' moving straight into but also helps to dampen down sound, ideal if your target market is families.
Make the space spacious
In all cases, you'll want to make the most of the space to maximise the property's letting potential by appealing to tenants. Recommendations for maximising your loft conversion space include …
Investing in fitted or custom furniture instead of using awkward, ill-fitting separate pieces which impose on the space:

Custom builds can be slimline and streamlined to increase both space and storage.
Custom cupboards of floor-to-ceiling height not only maximise the space available but can be extremely versatile without limiting the range of potential uses for the new loft conversion: built-ins can easily become wardrobes and toy cupboards, or storage for craft, office and home cinema supplies.
In-situ furnishings add to that high-specification finish which may command a higher rental fee.
But whatever the rental sector, offering built-in furniture as part of the space also minimises knocks and damage associated with tenants trying to get their own furnishings into loft rooms - stairwells tend to be deceiving when it comes to getting furniture into place. Thoughtful details like this make the idea of moving home much more stress-free for tenants, something which can help attract tenants to your property, rather than an alternative.
Even if ceiling height is relatively low, shelving at eye level and floor level can streamline space and minimise visible clutter which closes a room in.
Where ceiling height is reduced, consider low furnishings such as Japanese or pallet style beds, coffee tables with beanbags and cushions on the floor rather than desks and chairs. This increases options for possible room use whilst heightening the perceived level of the ceiling and sense of orderliness and calm.
If short walls or vertical joists extend into the loft's floor space, consider incorporating these as bed-heads, reading nooks or to define areas, for example for studying or dressing, to present these as useful rather than useless spaces in the room.
Let in light by adding glass elements, including mirrors and reflective surfaces, will allow light to travel around the room in a way that adds to the sense of space.
Painting walls and ceiling in same light tone can also expand the space, whilst allowing a practical, economical and quick to repaint between tenancies, so that the space appears bright, fresh and attractive to prospective new tenants.
Using artificial lighting thoughtfully can really bring corners out of the shadows, whilst adding chandeliers and spotlights can increase the sense of space from lofty ceilings.
For more ideas on how to save space in a loft conversion check out Abbey Loft's Top Space Saving Ideas blog post.
Make the space moody
Adding an ambiance or mood to the room is another way to enhance both the size and purpose of the space, which could add considerably to the rental potential of the property. For instance ...
Consider the view through the windows and use what's coming into the room to create a mood. So, if the view from roof lights is the wonderfully-changing backdrop of clouds and sky, decorate inside to reflect the mood created by being amongst the clouds, with light colours such as Duck Egg, Chantilly Cream or Dove Grey.
Factor in features such as low ceilings to add to the mood. For example, creating a cosy area in a nook, for reading or working is something which emphasises the useful and cosy mood of the space, particularly if you're staging the room as a bedroom, study or child's room.
Dressing the window is again another way to enhance the room with a mood. Want to create a light or romantic mood to a Juliet Balcony? Add a sheer voile panel! Want to enhance the productive mood of a study space? Use a UV-filter blind to make the most of light whilst also reducing screen glare.
Make the space sensational
If your target market is upmarket and time and money allow, creating a sensational space is certain to make the most of your loft conversion. At the loft design stage, you could consider incorporating a mezzanine or a built-in bed to really dedicate the space, whilst adding a luxury en-suite, sumptuous textiles and rugs adds sensation and opulence to master suites.
Finally, making the most of a loft conversion in a rental property means acknowledging that sometimes tenants, particularly those on short-term tenancies, may need storage for items not being unpacked. Make use of eaves areas to retain a little 'attic' storage space, so that prospective tenants can make the most of your space without their own clutter can also help achieve lettings quickly, as potential tenants recognise that they can move in quickly and easily to start enjoying the loft room for themselves.