Are There Benefits to Professional Photography?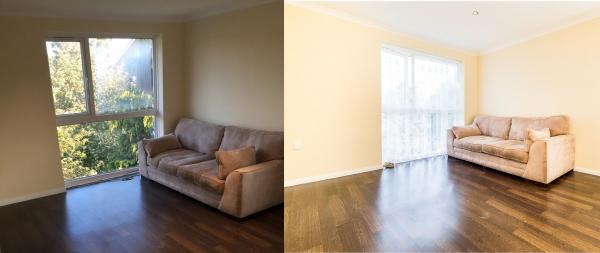 In the age of online property searches tenants can instantly find every property that suits their needs in a matter of seconds, so standing out is a huge task and many landlords think that a selection of professional photos of the property will be the key to securing the maximum amount of interest.

Property photography packages can range from the inexpensive "in-house photos" some estate agents offer (where they send the youngest a geekiest member of their staff around to your property with their smartphone and charge you £50 for the privilege) to the exhaustive £1000 options offered by "elite photographers" so making the right choice for your property can be a daunting task. Here at MakeUrMove, we offer one flat rate fee of £90 for 8 photographs taken and enhanced by a trained specialist who we are sure will present your property in its best light.
Properties that used our professional photography had an average of 2 offers per property and this year they were on the market for an average of 12.3 days.
We understand that even at our low rates professional photography can seem like a large expense on top of all the costs listing a property already come with to make sure you get the most out of your photography package there are several things you should be made aware of beforehand.

" If the property is currently tenanted you may want to request that the tenants make the property as presentable as possible, photographers can request a tenant move items around but they have no authority to do so and even the best lighting can't make a pile of dirty dishes look good. Some landlords who rarely see their properties can be caught out by their tenants refusing to accommodate the photographer's needs leading to photos that don't do the property justice.
"Professional photographers can make the most of poor lighting but properties look a lot better with the sun shining through, our photographers do use clever editing techniques to make sure the property looks like it's ready for a July BBQ even when the photos are taken during rainier days of the year, which to be honest is most of them.
"To ensure the sharpest images our photos are generally taken using a tripod so it is best to make sure there is space available in the corners of the rooms you want to highlight so the photographer can show off the full dimensions of each room.
"As a landlord, you know the best features of your rental accommodations and what really draws the attention of prospective viewers, make sure the photographer is aware of any special features you want particular attention paying to.
63% of our properties with professional photos had offers to let within the first week,
75% in the first 2 weeks.
Anyone who orders professional photography through ourselves has the complete right to access and use those photographs for their own purposes. Unlike most letting agents MakeUrMove will always allow landlords access to the photos they have paid for and will not include any watermarks or identifiers in the photos so if you decide to sell your property instead of letting it out and the photos are still relevant then you won't be forced to pay again when going to another agency that deals with property sales. If you do decide to purchase from another agent always make sure they don't place a crude company logo all over something you have paid for.

Here at MakeUrMove, we are dedicated to landlords being able to rent out their properties in the way they see fit, whether that's including their favourite parts of the local area in the description or using their own photographs to emphasise the unique and distinguished aspects of their rental homes. When it comes to photos there are however certain rules that should be followed and we often find landlords making simple mistakes that can cause the property to lose its appeal to potential viewers. Taking a photo of a computer screen with the photos on is one of the most common issues we come across and one that does seem to cause properties to be on the market longer. Taking photos from too short an angle can also make a property appear much smaller than it truly is and can be very damaging to the chances of a quick let especially when the property is a studio or an apartment and this is where the benefits of a professional photographer's wide angle lenses really come into play.

Our research has shown that professional photography can have its highest impact on properties that were listed for over £1000pcm. A side by side comparison of two similarly priced 3-bed properties in the same part of London showed 300% more viewing requests within the first 7 days for the property with the professionally taken photographs by one of our specialists. A quick disclaimer we only had 7 days of data and as someone who studied statistics I would have liked a longer data set to compare the properties but the landlord of the more popular property combined our 7 day free trial with our professional photography and he never had to pay for a single day of advertising as the property was snatched up so quickly.
To find good tenants faster, list your property with MakeUrMove and select our Professional Photography for landlords package.