Tenant Fees Bill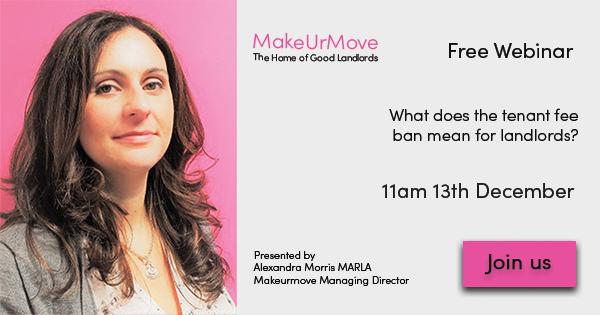 Recently private landlords have become used to new legislation and regulations. There seems to be a never-ending stream of new rules to abide by. But there are more on the way. The Tenant Fees Bill 2017-19 is currently making its way through Parliament. And it's something which will affect every landlord. As well as letting agents.
This bill will bring big changes. And it's a subject MakeUrMove Managing Director Alexandra Morris (MARLA) will be addressing in a FREE webinar on Thursday December 13. You can find more information about the webinar and reserve your place by clicking here.
What is the Tenant Fees Bill?
It's a public Bill sponsored by MP James Brokenshire and Lord Bourne. However, the government are also supporting the legislation. This means it's highly likely to become law.
The Tenant Fees Ban is a more popular name for the bill. Which gives you a pretty good idea what the bill is about.
A very long-winded summary of the bill appears on Parliament's website. But the main points of the legislation are:
A cap on the deposit a tenant must pay. This will be limited to the equivalent of five weeks rent. This applies if the rent is under £50,000 per year.
A landlord can increase the deposit to the equivalent of six weeks rent if the tenant pays over £50,000 rent per year.
Restrictions on when landlords and letting agents can charge default fees. This will be limited to lost keys and late rent payments.
A landlord may levy a default fee if the rent isn't paid in 14 days from its due date.
Landlords will still be able to claim costs for damage from a deposit protection scheme at the end of the tenancy.
Landlords and letting agents will only be able to take one holding deposit from prospective tenants.
Learn what the Tenant Fees Bill means for you. Register now for the FREE MakeUrMove webinar
Why is the Tenant Fees Bill being introduced?
From the sponsors point of view the Tenant Fees Bill will protect tenants from unfair charges levied by landlords and letting agents. James Brokenshire has been quoted as saying: "The amendments will make renting a home of your own more affordable, fairer and more transparent – enabling tenants to keep more of their cash and stopping unexpected costs.
"Everyone deserves a home to call their own. Yet for some renters, moving to a new house can be difficult due to high upfront costs and letting fees.
"This is unacceptable. I want to see a housing market that truly works for everyone, and one which provides a better deal for renters."
What will it mean for landlords?
The biggest concern will be the five-week cap on deposits. The majority of tenancies will fall well below the proposed £50,000 threshold so most private landlords will be affected by this. As well as by the other proposals contained in the bill. Especially the restrictions on charges.
Alex will explore all these issues in our webinar. Don't forget it takes place on December 13. If you're a private landlord, or planning to be in the future, you need to attend this event.
You can reserve your place by clicking here.