How to welcome a new tenant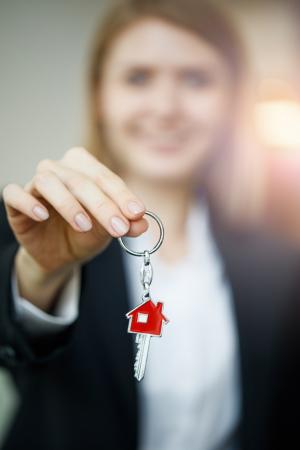 Moving a new tenant into your rental property is always a big moment for any private landlord. It's an exciting time. Especially if it's the first time you've let your property. But it's equally as exciting for the tenant. And probably just as stressful as it's been for you during the whole letting process.
When a tenant moves into their new home it's bound to be with a combination of excitement and a little stress. Especially on moving in day. It can turn into a long slog. And one which can be a little fraught.
So, it's a nice gesture to prepare a welcome pack for your new tenant. To help them settle in and feel at home right away. It's also a golden opportunity to start your relationship off on the right foot. Hopefully it will be the start of a happy tenancy with no issues on either side.
What you should include in your welcome pack
Your pack can be a combination of information, practical products and a small token or two. Consider including:
Information pack
Without overloading the tenant an information pack is essential. It should include a personal letter from yourself. Just a note welcoming the tenant to their new home. A nice touch would be to include a greeting card with the note. Ensure the letter includes all your contact details including phone numbers and email address. The easier you make it for your tenant to contact you the more likely you are to enjoy a good relationship.
Apart from the note your information pack should include any instruction manuals for appliances. Especially the central heating and boiler. Also include information on how to report a maintenance issue with an emergency contact number if you or your letting agent has one.
Finally include essential information such as bin collection days and the location of the nearest recycling centre.
The legal pack
As a private landlord you're obligated to provide certain legal information. Include all the paperwork in your welcome pack so the tenant has it all in one place. You need to provide:
The little touches
Moving day is often frantic. And finding things in unpacked boxes can be a nightmare. So, it's nice to provide a few little items to help the tenant settle in. A soap dispenser or two, toilet rolls and shower gel are inexpensive but thoughtful items your new tenant will appreciate.
Cleaning products
Help your tenant get a flying start on the housework. Visit a pound shop or local discount store and grab an armful of cleaning products. It's amazing what you can get for £10 or so. Include sprays, disinfectants, sponges and cloths. Pop them all in a bucket and leave for your tenant. It'll help them get started on cleaning up after the chaos of moving day. It'll also reinforce the message it's their responsibility to keep the property clean.
Local guide
Help your tenant get orientated by including information about the local area. Your library or council information centre will have leaflets from nearby attractions and you can download other info from the internet. Include bus and train timetables and maybe even menus from local pubs and takeaways. A map will also be a handy addition to your welcome pack.
Welcome gift
A nice touch is to leave an inexpensive welcome gift. This could be packets of tea or coffee with some biscuits. Perhaps a box of chocolates or pastries. A bottle of wine is another nice gesture though there is a possibility your tenant may not drink alcohol. A welcome gift certainly shouldn't be extravagant. But it's another token your tenant will appreciate.
First day meal
After the stress of moving in your tenant may not be in any mood to cook the evening meal. A voucher for a local takeaway would be a big surprise and a very welcome one. Again, this doesn't have to cost you much. You could even do a deal with the local takeaway owner to include the voucher in a copy of their menu in return for a discount on your cost.
A welcome pack such as this will get your relationship with your tenant off to a flying start. Above all it will show you're a good landlord with your tenant's interests at heart. Creating such a good first impression will help in the long run and your tenant will be more inclined to respect you and the property. And, importantly, pay their rent on time.
Private landlords can find tenants fast by listing their property with MakeUrMove the original online letting agency.