Why You Should Include a Floorplan With Your Property Listing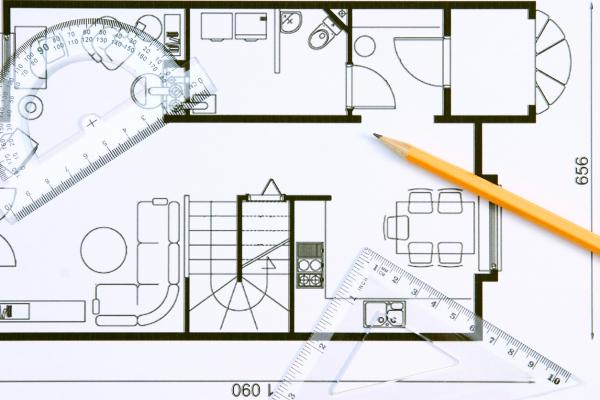 It's fair to say that when they advertise their property few private landlords immediately think of including a floorplan. A landlord will typical spend a long time agonising over the words to use in their ad. They'll spend even longer trying to get the best photos of their property. Or they will pay a professional photographer to take the photos instead.
Every private landlord knows the value of great images and informative copy. The better your photos and words can make the property stand out the better the chances of quickly finding a tenant. And there's nothing wrong with that logic.
But if that's the approach you take you could be missing a vital part of the puzzle. One which will find the right tenant for you even quicker. Including a floorplan in your advertisement can massively increase your chances of finding a tenant.
Research from Rightmove found floorplans are one of the most important factors in deciding to view a property. Whether looking to rent or buy floorplans are vital for people to make up their minds about a property.
As a private landlord looking to minimise void periods a floorplan should be an essential element in your marketing strategy. Not convinced? Here's five reasons why you should include a floorplan with your property listing.
1 Paints a complete picture
Tenants are unlikely to make their mind up about a property unless they have all the information, they need to form an opinion. Adding a floorplan to your listing completes the picture you began with photos and the written description. The floorplan allows prospective tenants to see the property as whole. How the different rooms fit together and the layout of the rooms themselves. Armed with this information tenants can make an informed decision on whether to enquire about the property.
2 Saves time
Following on from point one above. With a floorplan you are far less likely to receive wasteful enquires and viewings. A tenant will be able to see from the floorplan whether the property is large enough or is suitable for them and their family. It's frustrating for any private landlord to conduct a viewing only for the tenant to say something like, "It's far smaller than I imagined." A floorplan can help prevent this saving you time and allowing you to focus on people who will be interested in your property.
3 Your tenant can visualise themselves in the property
Visualisation is a powerful selling tool. And a floorplan can place the person reading the ad inside your property. Photos can be deceptive. But a floorplan allows someone to place themselves and their furniture in the property. They'll even start visualising decor and how they will position their furniture. This can be a real motivator to make an enquiry. To help complete the picture, include each room's dimensions in your written description.
4 Equally as valuable after the viewing
After the viewing is over and the tenant is considering their options a floorplan will enable them to bring context to their first impressions. A viewing can often be hectic. But afterwards they can sit down with the floorplan and have time to consider and reflect. This gives them the opportunity to see how suitable your property is for them.
5 Creates a great impression
A floorplan will make your property stand out from those of your competitors. It portrays a positive image and shows you're a professional landlord. A floorplan is an investment in your property. And don't forget it's a small one-off cost that will keep paying dividends for as long as you rent out your property.
How to create your floorplan
Unless you're a wizard with AutoCAD software you're probably going to need some help creating your floorplan. No problem. MakeUrMove can create a professional 2D floorplan of your property. Click here to learn more.
Private landlords can find tenants fast by listing their property with MakeUrMove the original online letting agency.