5 Of The Most Affordable Areas To Rent In The UK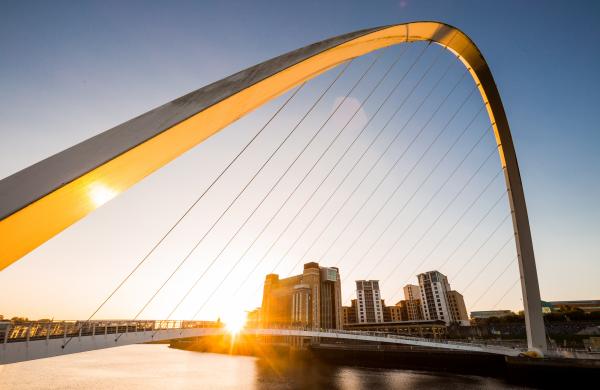 Are you looking for the most affordable place to rent in the UK?
According to the latest data by HomeLet, average rents in the UK rose by 2.5 per cent last month, with the average rent now standing at £932. Excluding London, where the average rent is around £775, up 2 per cent on last year.
Based on these average rents, we've put together a list of the five most affordable locations, whether you're a professional, student or a family.
North East
If you're looking for the cheapest region to rent, the North East comes out top with an average rent of £534, 31 per cent lower than the national average.
While the North East is the cheapest area to rent a property, it's also home to Newcastle and Middlesbrough which were both revealed in a list of the most affordable places for first-time buyers. This was due to a combination of lower house prices, deposit and stamp duty tax relief. So if you're only looking to rent at this stage, you can test the area out before you buy.
Newcastle is not only home to a university, but has recently seen a rise in the number of creative businesses setting up shop in the city. This makes it a thriving and bustling area to live.
Wales
After the North East, Wales comes in second place in terms of having the lowest average rent, at £606 a month.
As its own country, there's plenty of choice for renting. There are cities such as Cardiff and Swansea, towns like Wrexham, as well as the rural areas of Powys.
In terms of the lowest amount of money you need to earn to afford to live in Wales, the areas of Ferndale, New Tredegar and Treorchy come out top for the lowest cost of living.
The benefit of choosing to rent in Wales is that it has a higher standard of living. It also has lower costs for eating out in restaurants and grocery shopping, so you can get more for your money. Plus, Cardiff, Wales' capital city, has a massive 37 per cent cheaper cost of living than London.
East Midlands
The average rent for the East Midlands is £624, 154 per cent less than the Greater London area.
If you're looking for a low cost of living and affordable rent, the East Midlands is a good area to pick. It has many places which are within commuting distance to cities such as Nottingham, Derby and Leicester. It also has solid transport links. This means it's possible to commute to further away from major cities, such as London and Birmingham, whether that's by train or road.
With Nottingham located centrally within the East Midlands, this makes it one of the UK's best-connected cities, with around 20 million people living within two hours commute of the city itself.
Nottingham is also an ideal city for students, as it is home to both the University of Nottingham and Nottingham Trent University. While the average student accommodation costs come out at nearly £6,300, which is more expensive than smaller university towns and cities, such as Sunderland and Lancaster, Nottingham is more affordable than larger cities like Edinburgh, Sheffield, and Bristol.
As a result of the growing demand for student properties in Nottingham, there are plans for more than 2,500 student flats to be built in the city too.
South Yorkshire
South Yorkshire is one of the more affordable options in the Yorkshire region, with an average monthly rent of £621, while North Yorkshire comes in at the pricier end of the scale at £764.
Combining both rural and urban, with the bustling city of Sheffield, the other benefit of renting a property in South Yorkshire is it's within commuting distance to places such as Leeds, Manchester and Derby.
Similarly to Nottingham, Sheffield has two universities, the University of Sheffield and Sheffield Hallam University, so is a student-orientated city. It is also named in the top five for the least expensive places for grocery shopping.
West Midlands
The average monthly rent for a property in the West Midlands area comes out at £693.
As a major city in the region, Birmingham is the obvious choice for professionals who want to live and work right in the centre of everything.
Birmingham is currently seeing a huge rise in the number of affordable homes being built. In the last year alone, it saw a 33 per cent increase. In comparison, the UK average is a 12 per cent increase.
Renting in an area which is focused on creating more affordable homes is positive news. You can get to know the region, as well as knowing there are opportunities for getting on the property ladder when you're ready.
Areas likely to see rental increases
It was recently revealed that the most popular region for buy-to-let landlords is the North West. The North West has overtaken London and the South East. As a result, the North West, with major cities, such as Manchester and Liverpool, will likely see a spike in rental prices in the next few years.
However, Manchester still has plenty to offer in terms of being an all-round great place to live (and, it's where we're based!). You can read more about the seven things we think you need to know about renting in Manchester here.
Are you looking for the next home of your rental dreams? Start your search here (plus, we've already banished our tenant fees!).