Spring Cleaning Checklist for Tenants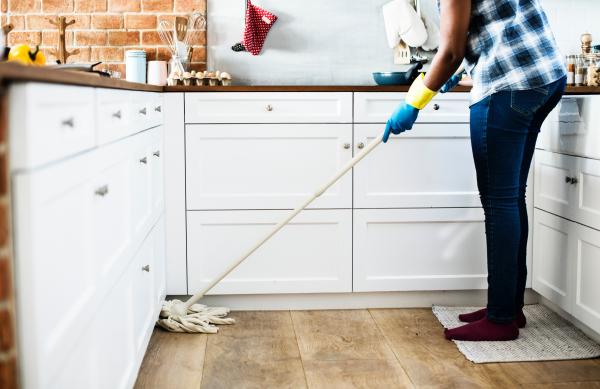 With the worst of the winter weather (hopefully) behind us, it's time to think about spring. And while it's nice to think about lambs in the fields, spring in most British households means its time for a deep clean. And why not?
We all want our homes sparkling for when the sun decides to come out. And for tenants, a spring clean is a great opportunity to get the property in shape. Don't just wait for a scramble at the end of the tenancy. A spring clean will save you plenty of work later on. But it's a good idea whether you're planning to leave your rental home or not.
Spring cleaning is a big job. But a little bit of prep will go a long way to making the task easier. So, to help you out here's our spring cleaning checklist.
Get your cleaning supplies
You won't get much done without the right cleaning products. Fortunately, there are plenty of sprays and bottles available. Your local pound store or discount shop will have everything you need.
Glass cleaner.
Disinfectant.
All-purpose cleaner.
Grout cleaner.
Cloths.
Sponges.
Scouring pads.
Rubber gloves.
Bucket.
Carpet /floor cleaner.

You'll also need plenty of elbow grease. But you can't buy that in a bottle.
Make some time
A proper spring clean is going to take some time. If you're thinking you'll get it over within an afternoon you may be in for a surprise. Allow a couple of days at least. But if you've a partner making a joint assault will make things easier. And quicker.
Do a room at a time
A systematic approach works best. Clean a room at a time and finish it before moving on to the next. It's tempting to do bits and move on when you get bored. But stick at it and you'll find doing a room at a time is much more efficient and you won't leave a room half done.
Each room presents its own challenge. So, here's a checklist and tips for each room. Starting with the toughest:
Kitchen
Go through the cupboards, fridge and freezer and throw away out of date food.
Empty the cupboards and wipe down the inside.
Wipe down the tops and doors of all cupboards.
Drag out appliances like the oven and fridge and clean behind them.
Defrost the fridge and freezer.
Clean the inside of the oven - this is the hardest job of the lot.
Living room
Move all the furniture - don't just clean around them.
Clean carpet or polish floorboards.
Pick up and clean all ornaments.
Take the opportunity to declutter by throwing out unwanted or unneeded items.
Bedroom
Go through the wardrobes and drawers and throw out / recycle old or unwanted clothes.
Wash pillows.
Vacuum the mattress.
Move the bed and vacuum underneath.
Bathroom
Clean mirrors and glass surfaces with a steamer.
Scrub the grouting between tiles. An old toothbrush works well here.
Use the steamer to clean the sink and bath.
Don't try and clean the shower curtain. It's easier and more hygienic to buy a new one.
Scrub the toilet and pay special attention to the flooring.
Don't forget the walls and windows in every room
As a tenant, it's unlikely decorating will be a part of your spring cleaning schedule. But do make a point of wiping down the walls. It's amazing the difference you can make by cleaning the paintwork. And don't forget the skirting boards.
If you have access to one a steam cleaner is a great way to get the windows sparkling. If you haven't got a steamer lots of elbow grease and glass cleaner will do just as good a job.
Apart from walls and windows remember to give every door a scrub. And take the opportunity to empty drawers and throw away all the old bills, magazines and odds and ends that accumulate in them. Finally, take down any light shades and give them a good clean before replacing them.
Spring cleaning probably isn't something any of us look forward to. But taking a room by room approach and giving yourself the time to do a proper job will ensure you get great results. And plenty of time to rest until it's time to do it all again next year.
Looking for a property? Find your next ideal property with MakeUrMove, the online letting platform bringing landlords and tenants together.